A Modest Proposal: DNC Should Invite Fox News Journalists to Moderate Debate on MSNBC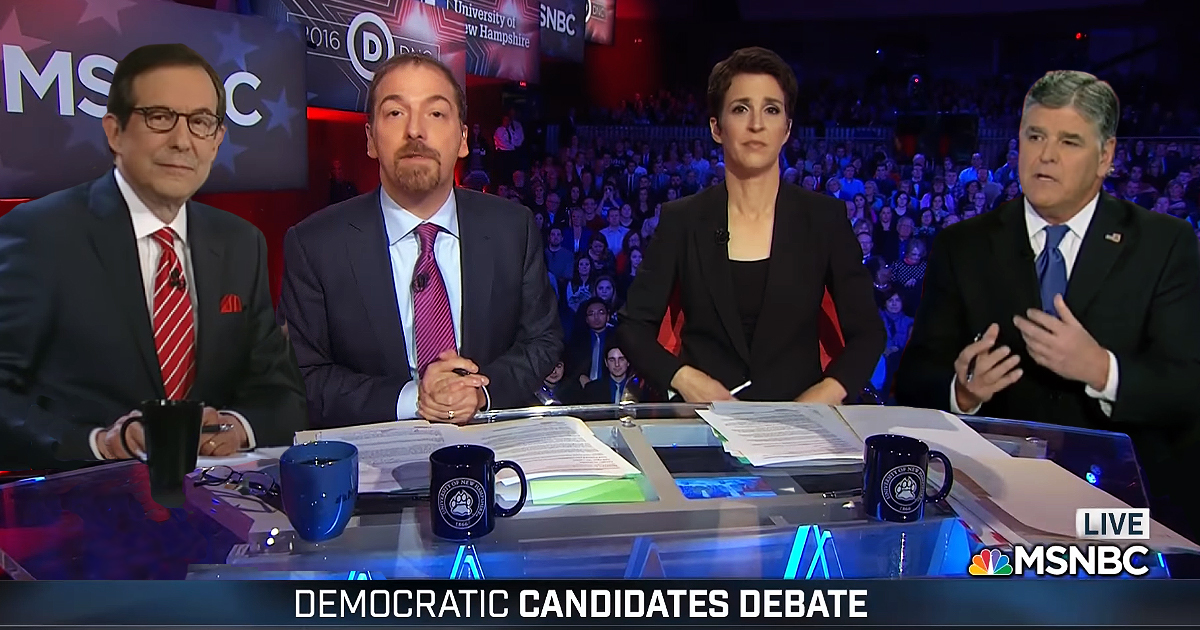 Fox News has made a big show of defending their "real journalists" from the DNC's decision to ban the network from hosting debates, so Democrats should call their bluff, and invite those Fox journalists to participate in debates at other networks, including MSNBC.
In his statement announcing the decision, DNC Chairman Tom Perez attributed it to a New Yorker story that he said shows "the network is not in a position to host a fair and neutral debate for our candidates," and which he later said demonstrates that "at the highest levels of Fox News, they're not playing it straight."
But since that announcement, many media figures (including on Fox News) have falsely suggested that Perez and the Democrats are afraid of or "can't handle" Fox News journalists.
This may or may not be the case, but that is demonstrably not what Perez is saying. Indeed, as some have argued, there is tremendous value and utility for Democratic candidates in facing off against the most adversarial journalists possible. The perception that Democrats are afraid to face the likes of Chris Wallace, Bret Baier and Martha MacCallum, the three journalists whom Fox named in their rebuttal to Perez, is something the party can ill afford.
On the other hand, the narrative that these folks are purely straight shooters is fatally flawed, as well. Baier was forced to retract a report on Hillary Clinton in the waning days of the 2016 campaign, and Baier has also reported falsehoods on air without correction. And last April, Politico reported that Baier was among Trump's "mystery golf partners" one weekend in Virginia.
And as Media Matters has documented, MaCallum has a long history of injecting pro-Republican opinion into her reporting, even openly advocating for Trump's border wall.
Even Wallace, who frequently and laudably nails Trumpworld figures like a roofer on crack, still exhibits the tics of a news culture that refers to undocumented immigrants as "illegals," despite the fact that the term is considered a slur by many immigrants and their allies.
Be that as it may, Wallace and someone like Shep Smith have demonstrated sufficient good faith to be included as moderators, but as Perez very clearly noted in all of his statements, the pro-Trump roots extend from the very top of the news division on down. For every Wallace or Smith, there are countless executives, producers, and others who have spent years being groomed by Bill Shine and Roger Ailes, and whose influence would be unquestionably felt.
That's why Perez and the Democrats should outmaneuver Fox, and offer the network's journalists the chance to participate in debates on other networks. Pair Wallace with someone like Hallie Jackson for a debate on MSNBC, or let Smith host a debate alongside Jake Tapper at CNN.
In fact, I would go so far as to recommend including Fox "opinion" personalities in such an arrangement, if paired in a fair and balanced way. A debate moderated by Sean Hannity and Rachel Maddow would be an eye-opener, for sure, and might provide everyone with an opportunity to disintegrate the caricatures that are promoted on Fox News. Have Brian Kilmeade and Chris Hayes join Chris Cillizza for a CNN debate, and let the fur fly.
The real question is whether any of these Fox personalities would consent to appearing on another network, and whether Fox News would allow it. The DNC should ask, so that the world can find out just who is afraid of whom.
This is an opinion piece. The views expressed in this article are those of just the author.