Trump to Hold Final Midterm Rally With 'Special Guests' Sean Hannity and Rush Limbaugh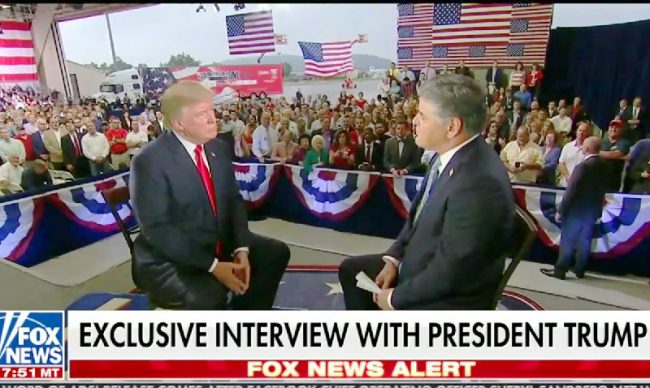 President Donald Trump is set to be joined at a rally Monday night by two "special guests": Sean Hannity and Rush Limbaugh.
That's according to the Trump campaign website, which is promoting the rally in Cape Girardeau, Missouri.
Fox News is describing the appearance somewhat differently. A spokesperson said Hannity will only be hosting his show from the rally and interviewing the president.
Hannity, Fox News's top rated host, is an unabashed supporter of the president, who has frequently campaigned for Republican politicians. Earlier this election season, he took part in rallies for Rep. Ron DeSantis and Rep. Matt Gaetz.
Limbaugh's appearance comes just a week after the talk radio titan pushed the conspiracy theory that the pipe bombs sent to Trump's outspoken critics could have been mailed by a "Democratic operative." The alleged bomber, it turned out, was a fanatical Trump supporter.
The big name rally comes the eve of the midterm elections, and is the third event on Trump's last day of rallying.
UPDATE: Hannity took to Twitter to make clear he will not be campaigning with Trump, but covering the president's final rally for his show:
In spite of reports, I will be doing a live show from Cape Girardeau and interviewing President Trump before the rally. To be clear, I will not be on stage campaigning with the President. I am covering final rally for my show. Something I have done in every election in the past.

— Sean Hannity (@seanhannity) November 5, 2018
Have a tip we should know? tips@mediaite.com