A Guide to Celebrity Offensive Remarks and The Punishments They Faced (Or Lack There Of)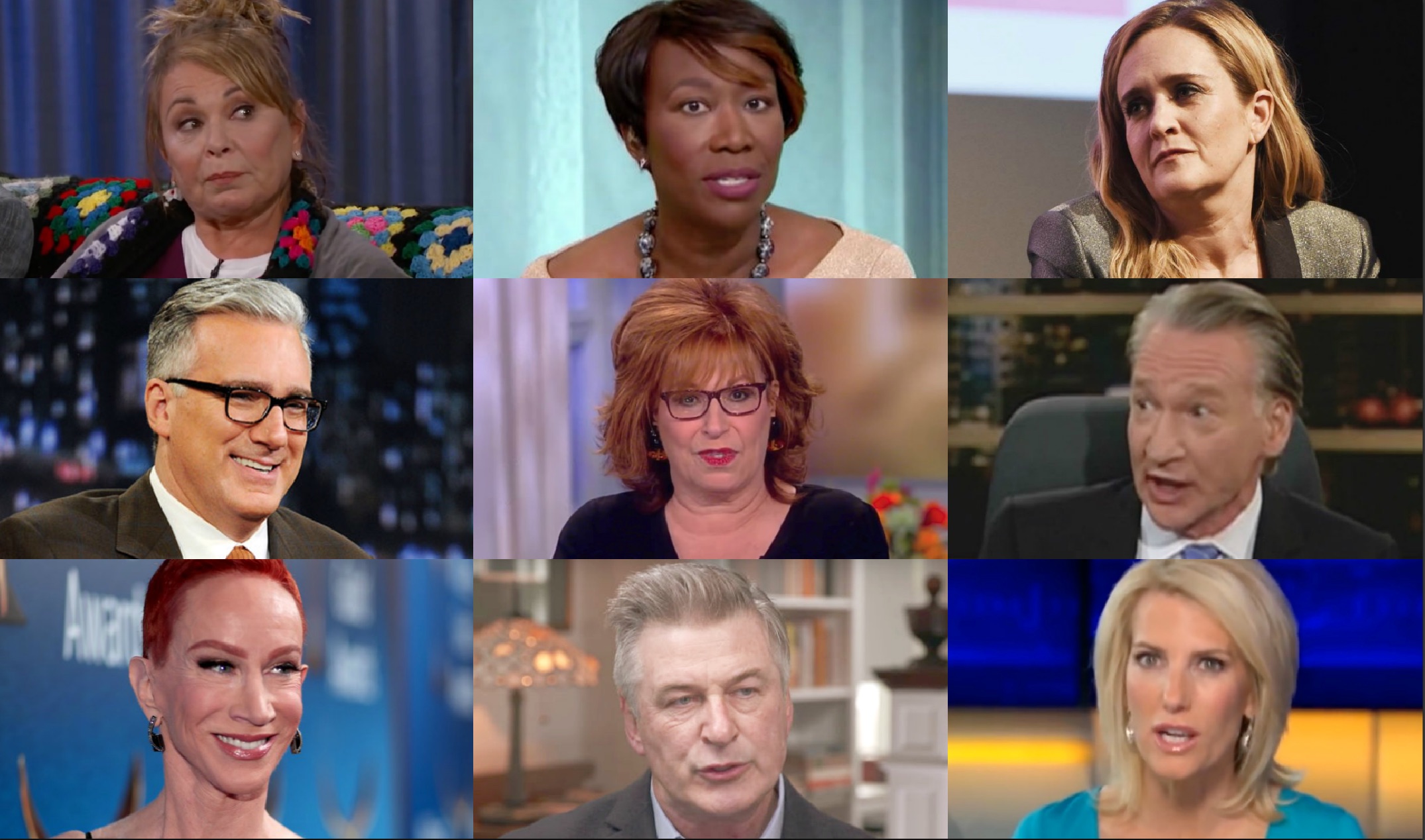 Roseanne Barr and Samantha Bee reignited the ongoing culture war about what's offensive and what's punishable in American society.
All week long, we've heard folks on the right call out the double standards in the fallout of these controversies, comparing ABC canceling Roseanne's show to the lack of consequences Bee among others have faced for their repugnant remarks.
In order to advance the dialogue, we must reflect on how people were treated thus far. So here's a list of high-profile individuals from both sides of the aisle who in recent years were swept up in controversy and the fallout they faced. And you can decide for yourself whether punishments were justified or if there truly is a double standard.
Roseanne Barr
Despite her history of questionable Twitter activity, it was her racist tweet that called former Obama advisor Valerie Jarrett the "baby" of the Muslim Brotherhood and Planet of the Apes that derailed her career. Roseanne issued an apology to Jarrett and the country and roughly three hours later, ABC cancelled her hit show. She was also dropped by her talent agency.
Samantha Bee
In the midst of the Roseanne controversy, Samantha Bee faced heavy blowback for calling top WH advisor and First Daughter Ivanka Trump a "feckless c*nt" for posting a picture of herself with her son as her father's immigration policy is separating families of illegal immigrants at the border during the monologue on her show Full Frontal. Both the comedian and TBS issued apologies, but aside a couple of sponsors withdrawing their ads from her program, Bee herself has yet to face any consequences. In fact, she was honored by the Television Academy for her social change advocacy.
Joy Behar
Earlier this year, Joy Behar mocked those who believe that Jesus "speaks" to them, joking that the belief sounds more like a "mental illness." It was a shot at Vice President Mike Pence's faith, and in doing so Behar mocked all Christians who believe Jesus speaks to them. After a massive outcry from conservatives, the co-host of The View walked back her comments and later personally apologized to the vice president. ABC did not take action against Behar.
Keith Olbermann
Keith Olbermann has been very outspoken with his animosity towards President Trump, calling him virtually every name in the book on Twitter from a "white supremacist," "Nazi," "psychopath," and speculated on numerous occasions that Trump was a drug addict or mentally ill and has tweeted "F**K YOU" to the president. ESPN has recently expanded the commentator's role for the sixth time.
Bill Maher
Moments after Roseanne was cancelled, an avalanche of Trump supporters took aim at Bill Maher for his years-old attacks of the president comparing him to an orangutan. However, it was almost a year ago when Maher used the N-word in a joke on his HBO program. He offered an apology the next day without having suffered professional backlash. He did face severe backlash in 2001 for offensive comments he made about 9/11, which led ABC to cancel his late night talk show Politically Incorrect.
Laura Ingraham
Fox News host Laura Ingraham was the target of a massive ad boycott campaign orchestrated by Parkland student David Hogg. It all began when she mocked the young gun control activist on Twitter for being rejected from top colleges. In reaction, Hogg took aim at her advertisers and urged his followers to pressure them into parting ways with the conservative pundit. While his campaign was extremely effective with over 20 sponsors fleeing from her show, Fox News stood by its host and her ratings have actually increased since.
Jemele Hill
Last fall, SportsCenter anchor Jemele Hill blasted President Trump on Twitter and called him a "white supremacist." ESPN issued a statement saying her tweets about the president "do not represent" the network. However, ESPN did suspend Hill for two weeks after she called for a boycott of Dallas Cowboys advertisers in the wake of the national anthem controversy.
Curt Schilling
During the national debate regarding North Carolina's legislation that forced transgender people to use the public restrooms assigned to their birth gender, former big league pitcher Curt Schilling shared post on Facebook of an overweight man wearing a wig and women's clothing with text that read: "LET HIM IN! to the restroom with your daughter or else you're a narrow minded, judgmental, unloving, racist bigot who needs to die!!!" Schilling himself added, "A man is man no matter what they call themselves. I don't care what they are, who they sleep with, men's room was designed for the penis, women's not so much. Now you need laws telling us differently? Pathetic." He was fired by ESPN, but he remained defiant, insisting he wasn't transphobic or homophobic.
Martin Bashir
In 2013, MSNBC host Martin Bashir viciously went after Sarah Palin over remarks she had comparing the national debt to slavery, not only calling her a "world class idiot" but even suggested that someone should give her slavery treatment by defecating into her mouth. The following Monday, he issued an on-air apology. And after going on an abrupt "vacation," Bashir resigned two weeks later.
Chelsea Handler
In January, comedian Chelsea Handler targeted Sen. Lindsey Graham (R-SC) on Twitter on his immigration reform efforts with President Trump. She asked the senator, "what kind of d**k sucking video do they have on you for you 2 be acting like this? Wouldn't coming out be more honorable?" Handler never issued an apology nor did she receive any blowback outside of conservative critics.
Jeffrey Lord
CNN commentator Jeffrey Lord blasted the liberal media watchdog group Media Matters For America in a column he wrote for The American Spectator, comparing their tactics to silence conservatives to Nazis. And when he was confronted on Twitter by MMFA President Angelo Carusone, Lord jokingly responded by tweeting "Sieg Heil!" Within hours, CNN severed ties with the pro-Trump pundit.
Alec Baldwin
Back in 2013, long before he ever dawned the spray tan and the blonde wig, Alec Baldwin was caught in a string of on-camera tirades, including one when he used an anti-gay slur on a photojournalist. After initially suspending Baldwin, MSNBC cancelled his show. However, as an actor, his career remained intact, appearing in films like Still Alice, Concussion, Boss Baby and Mission: Impossible installments since. Most notably, Saturday Night Live has relied on his Trump impression since 2016.
Stephen Colbert
Late night talk show hosts have not been kind to Donald Trump, but it was Stephen Colbert that took his criticisms of the president a bridge too far. In May 2017, The Late Show host blasted the president for going after his CBS colleague John Dickerson. And during his monologue, Colbert told Trump that the "only thing your mouth is good for is being Vladimir Putin's c**kholster." After strong condemnation from Trump's defenders, Colbert expressed regret the following night, saying he would have "changed a few words" but stopped short of offering an apology. To this day, he continues to be one the most-watched late night comedians.
Kathy Griffin
It has now been over a year since Kathy Griffin had that infamous photoshoot holding up President Trump's bloodied severed head. After initially defending her actions, Griffin offered an apology later that evening. CNN had a somewhat delayed response, but ultimately fired her from her New Years hosting gig. The comedian later claimed victimhood, saying that Trump "broke" her. And a couple months later, Griffin withdrew her apology. While career definitely took a hit at the time, Griffin seems to be making a comeback, appearing on numerous talk shows and launching a new stand-up tour. Since the photoshoot, she has become one of the most outspoken, foul-mouthed critics of the Trump administration.
Joy Reid
In December, Mediaite reported on the first batch of homophobic posts written by Joy Reid on her now-defunct blog years before being hired on MSNBC. At the time, Reid issued an apology. However, when Mediaite reported on a larger trove of homophobic articles in April, Reid claimed that hackers "fabricated" those posts, despite the fact that they were preserved by the internet archiving service The Wayback Machine. Later that week, she made a quasi-apology on her Saturday morning show, saying she did not "believe" she could have written such hateful things. MSNBC stood by its host. But since the sudden downfall of Roseanne Barr, scrutiny against Reid was renewed. And even more embarrassing blog posts have surfaced this week, including her pushing a 9/11 conspiracy and sharing a photoshopped image depicting Sen. John McCain (R-AZ) as the Virginia Tech shooter. After a delayed response, Reid issued another apology and MSNBC stated that her old blog posts "are not reflective of the colleague and friend we have known" for the past seven years. Neither of them addressed Reid's previous hacking claims. Her old blog posts continue to be reported on.
[images via Getty, screengrab]
This is an opinion piece. The views expressed in this article are those of just the author.