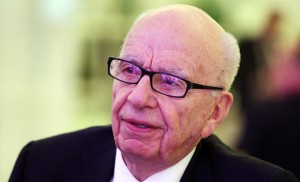 Billionaire Rupert Murdoch is home recovering after he injured his back while sailing — he told a group of senior colleagues in an email late last week.
Vanity Fair on Wednesday reported that Murdoch hurt himself "while vacationing on his son Lachlan's yacht in the Caribbean earlier this month." Lachlan Murdoch also serves as executive chairman of the Fox News parent company, 21st Century Fox.
The 86-year-old informed employees that he sustained the injury while sailing. In his statement, Murdoch said he was "on the road to recovery," but will be working from home for several weeks.
"I am writing to tell you that last week I had a sailing accident and suffered a painful back injury. While I am well on the road to recovery, I have to work from home for some weeks. In the meantime, you'll be hearing from me by email, phone and text!"
The Murdoch family owns Fox, which is home to Fox News, the Fox broadcast network and a major movie studio, among other assets. Disney is currently in the process of buying most of the company.
In 2014, Murdoch appointed his sons to top positions at Fox, and promoted them the next year. Lachlan is now executive chairman of Fox, while other son James Murdoch is CEO. Lachlan also became co-chairman of News Corp. in 2014.
[Image via screengrab]
Have a tip we should know? [email protected]
---