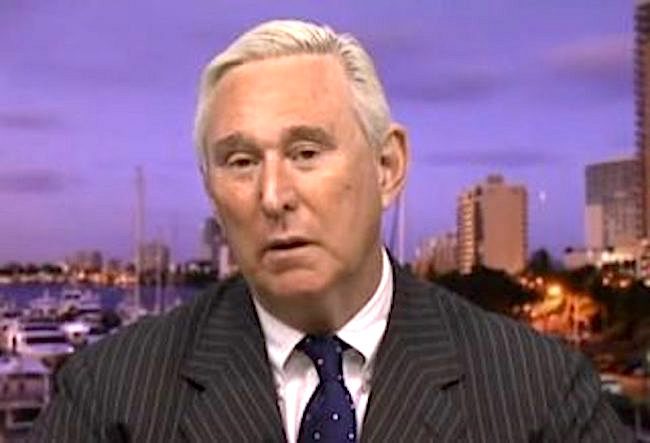 Last night, one-time advisor and longtime Donald Trump ally Roger Stone took to Twitter to back up the president's tweetsstorm in which POTUS accused his predecessor of wiretapping phones at Trump Tower. According to Stone, former President Barack Obama needs to be charged for crimes due to the unproven claims made by Trump.
The buck stops here. Obama responsible for illegal surveillance of @realDonaldTrump – must be charged, convicted and jailed.

— Roger Stone (@RogerJStoneJr) March 5, 2017
At one point in the evening, a Twitter user fired back, asking Stone if he knew what libel was while also pointing out that Stone had previously hyped his knowledge of WikiLeaks having info harmful to Hillary Clinton's campaign. Stone's response was something.
Here are the tweets Roger Stone deleted. pic.twitter.com/2S0mFvKcsu

— Lili Loofbourow (@Millicentsomer) March 5, 2017
(Stone has since deleted those tweets.)
He also took aim at others on Twitter in a couple of obscene tweets that are still up on his timeline.
@yashar go fuck yourself, u talentless asswipe

— Roger Stone (@RogerJStoneJr) March 5, 2017
Really? @ananavarro is fat, stupid and fucking Al Cardenas https://t.co/psEHE7etuv…

— Roger Stone (@RogerJStoneJr) March 5, 2017
Stone was banned by both CNN and MSNBC from appearing on their networks over his history of racist and offensive attacks towards others on Twitter. (MSNBC relaxed the ban earlier this year to interview Stone in relation to reports he was under investigation regarding his communications with Russia.)
[image via screengrab]
——
Follow Justin Baragona on Twitter: @justinbaragona
Have a tip we should know? [email protected]