Echo Chamber of Secrets: 30 Media Muggles and their Harry Potter Counterparts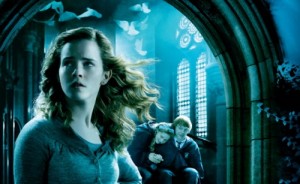 It's no secret that grown-ups love the Harry Potter series almost as much as kids – maybe even more, based on certain grown-up references that the average 12-year-old can't quite yet appreciate. More to the point, by this time a whole bunch of Harry Potter fans who were once kids, back when the book came out, are now all grown up. Either way, that means a whole lot of us at Mediaite are unashamed, unabashed Harry Potter fans. After its worldwide record-breaking weekend (which a few of us contributed to), we got to talking about certain parallels between the magical land of Hogwarts and the equally magical land of headlines, bylines, cutlines, chyrons, blog pickup and declining ad pages. Turns out, the two have a lot in common! Before we knew it, we were shouting out names of media muggles like Hermione answering a pop quiz. After careful (and nerdily meticulous) consideration, we've come up with a few examples for you. (We like to think of the Power Grid as our own little version of the Marauder's Map.) Here below, for your edification and enjoyment, is our own version – let's call it "Harry Potter and the Media Muggles." Mischief managed!
****
Conan O'Brien: Ron Weasley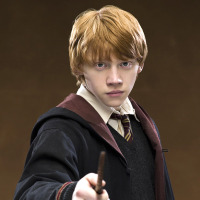 We've watched gangly, lovable Ron grow up before our eyes – and so, too, have we watched gangly, lovable Conan do the same thing as he moved up a time slot into Leno's growed-up shoes. Also, there's the red-headed thing. If only he could perform an Engorgio! spell on the ratings.
Campbell Brown: Hermione Granger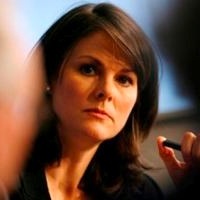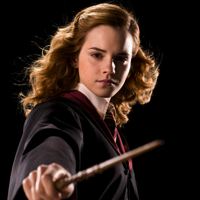 Campbell Brown recently declared that CNN was the only network "doing journalism" – that reminded us of Hermione scolding Harry that he wasn't following directions from his potions book correctly. Still, you don't become a star pupil – or a star anchor – for nothing; it requires brains and hard work. No-nonsense in the library, intrepid on the field of battle – Hermione and Brown have those things in common. Plus, if we may say, a rather adorable button nose.
Bill O'Reilly: Draco Malfoy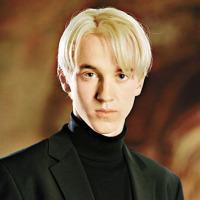 Who's the biggest troublemaker at Hogwarts? Draco Malfoy, Harry's arch-nemesis and the school bully, throwing taunts and barbs and challenging his enemies. He's a leader, a lightning rod, and the prime symbol of the Slytherin message. Sort of sounds like – Bill O'Reilly, whose show leads Fox News to ratings dominance, and he's never been shy about throwing punches. Of course, the top bully needs henchman, so who better than…
Glenn Beck: Crabbe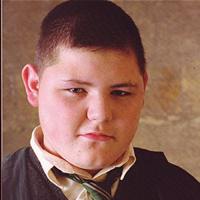 Keith Olbermann: Goyle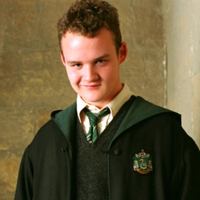 Crabbe & Goyle don't say much in the Harry Potter books, so in that respect they're dissimilar to Glenn Beck and Keith Olbermann, who never met a subject they couldn't formulate an impassioned opinion about. However, in terms of raw henchman-y power, they both provide twin support for the O'Reilly model, on the left and the right. Bill O'Reilly chose the weapon – the blunt instrument of bloviation – and they have both learned to wield that weapon to carve out a spot in emulation of their leader. Also, Olbermann is huge. That helps when you're a henchman.
Graydon Carter: Lucius Malfoy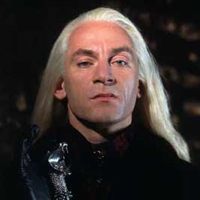 We're not saying the editor of Vanity Fair is evil, exactly – we'll leave that to Toby Young. But you can't deny certain similarities between Graydon Carter and Lucius Malfoy, the imperious, imposing figure at the top of publishing/wizarding society. Like secret meetings at Borgin & Burkes, Carter's Waverly Inn only admits the invited few; if you're of mere Muggle stock, you might as well not bother.
Malcolm Gladwell: Professor Trelawney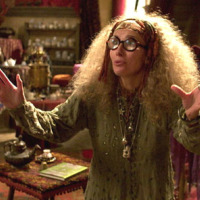 Brainy, cerebral, casting your mind out to the universe to divine the secret interweaving patterns that determine the behavior of those around them – sounds like Malcolm Gladwell found a mind-mate in the all-seeing Sybil Trelawney. Also, there's the hair.
Arianna Huffington: Bellatrix Lestrange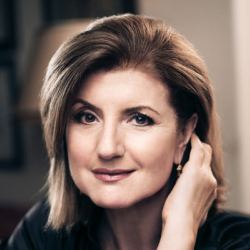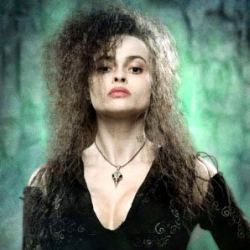 Like Voldemort's top lieutenant, Arianna Huffington is skilled, sexy, and widely feared. Only instead of stealing prophecy orbs she (arguably) steals other people's content. Please don't Crucio us, Arianna.
p.s. Both are by far the most likely on this list to make a "wandwork" joke.
Chris Matthews: Mad-Eye Moody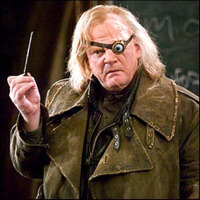 He barks. He blurts. He sometimes seems a little nuts. Need we say more?
Anderson Cooper: Fleur Delacour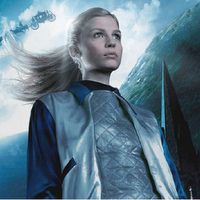 That silvery hair…those bewitching eyes…how could you not be transfixed? This is what Fleur Delacour and Anderson Cooper have in common. Yes yes, they're both very accomplished – she competed for Beauxbatons in the Triwizard Tournament, he is a cornerstone of CNN's primetime – but really, they're just both so pretty.
NEXT PAGE: ALBUS DUMBLEDORE, STEPHEN COLBERT, AND MORE
Have a tip we should know? tips@mediaite.com